Our village bi-monthly magazine is Packington Post, produced by a small group of volunteers of the Packington Communications Group PCG.

Based on a Village Appraisal in 2002, which showed conclusively that the village wanted better communication, the magazine was launched as Issue 1 in the summer of 2003, and there were 6 issues each year since.
Alas, we only have digital copies of 6 of the first 57 issues, but full coverage since No 58 in January 2013.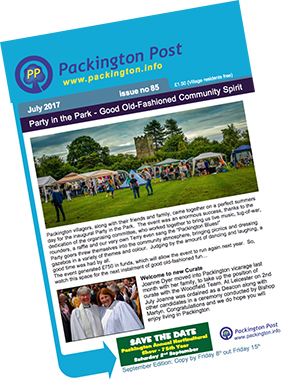 We currently publish bi-monthly, in months 01 – January, 03 – March, 05 – May, 07 – July, 09 – September, and 11 – November, so the title 202505 refers to the May 2025 edition.
In the table below, scroll to choose the year and click the underlined issue title within the year, to download the pdf digital file of the edition. Close the tab or window when convenient to return to this page.
The pdf file of the magazine may not always start at Page 1 – some of the copies were of the print edition which was ordered as: last page, first page; page 11, page 2; page 10, page 3; .. and so on: 9, 4; 8, 5; to page 7, page 6. Some editions may be 16 pages; other early editions only 8.
In Summer of 2023, our village magazine has recorded village activity for 20 years. We have had the following Editors:
Stephen Plummer, founding Editor, 2003 – 2011
Natalie Moreland 2011-2013
Barry Alldread 2013-2015
Mike Coke 2015 – 2022
Amy Powell 2023 on
Let us know your thoughts by email to editor at packington dot info