Robin Boucher, chair of PVHG, made the following report of 2021 activities to the Annual General Meeting on 25th January 2022:
---
During the first half of 2021 we were constrained by Government restrictions on meetings, due to the Covid pandemic. Some of us met on Zoom while others felt unable to do so. In the autumn we were able to meet face-to-face once more. Despite the difficulties, the year was not without some achievements.
Following Yvonne Eaton's retirement from the position of secretary, Sue Brown agreed to take on the role for the next couple of years. Thank you, Sue, for undertaking this work.
While we were unable to meet, Sue Brown and Robert Dilworth worked on production of a list of baptisms and burials which now appears on the Group's website at pvhg.uk. Some 3,286 entries are now available for visitors to examine.
In mid-June, I led a walk up Mill Street. The weather for the evening was beautiful and around thirty people turned out, which was close to the permitted attendance for an outdoor event at the time. The walk was well-received – the appearance of a peacock near the starting-point was clearly a good omen!
Meanwhile I had also started preparing a publication, based on oral interviews which our predecessors had undertaken from the late 1980's onwards. Group members helped with proof-reading and supportive feedback and the Parish Council made a grant from its Solar Fund towards production costs. "A Way of Life That Has Gone" was published in December 2021; the PVHG publicity machine rolled into action (thankyou Robert and Sue) and the book was launched at a signing session in the Memorial Hall. At the time of writing over half of the print run of 100 copies has been sold.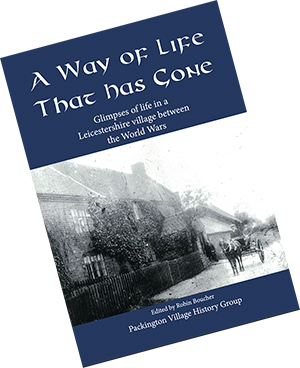 Our autumn meetings included a session looking at the 1735 estate map of Packington, and a very interesting presentation by Sue Brown on the Leeson family, prominent in Packington from the fifteenth to the eighteenth centuries. We concluded by starting to plan our contribution to the village's Queen's Platinum Jubilee celebration to be held in June 2022.
Robin Boucher
2nd January 2022